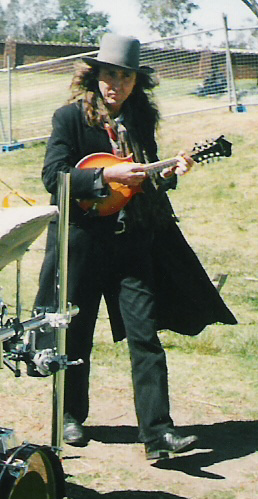 SHAGGY LOOKING VERY DYLANESQUE AT THE JAMBEROO FOLK FESTIVAL IN 2003
Shaggy contributes guitar, mandolin, vocals and thingamebob (an instrument he built himself from discarded artistic and industrial materials) to the Zarsoff Bros show. Although he's been a fan for years, he played his first Zarsoffs gig at the Argyle Street Hotel in Parramatta, during the Boys Are Back In Town tour. He played with award-winning band Trail Blazers and has become notorious as a busker on Sydney trains, always one step ahead of the fun police.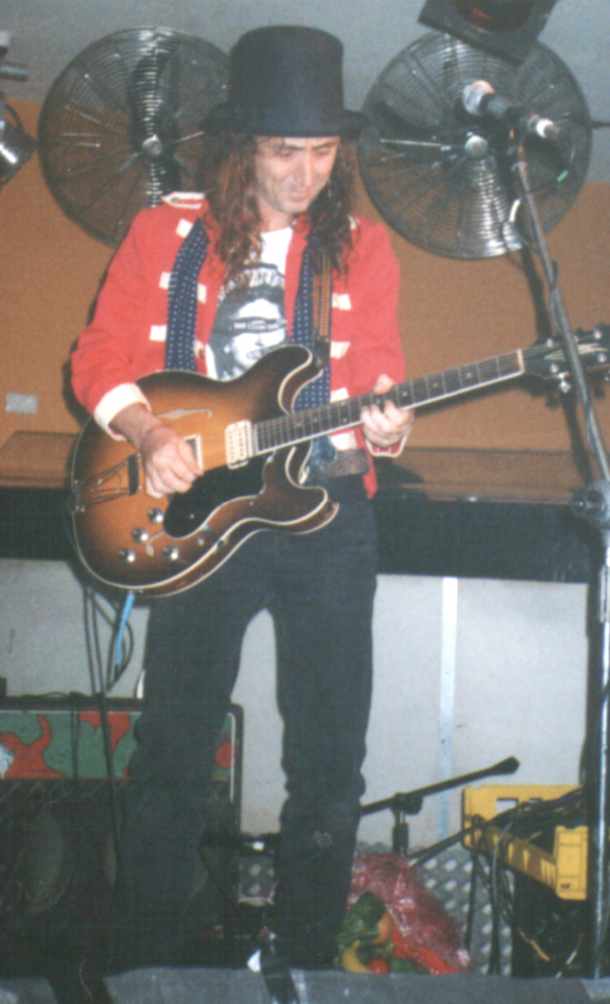 After many "Boys Are Back In Town" spots with various lineups, THE FABULOUS ZARSOFF BROS became THE LEGENDARY ZARSOFF BROS with a permanent lineup of past and new members. The first "Boys" gig with this line up, including newest guitar player SHAGGY, was at the Argyle Street Hotel in Parramatta. The punters were suitably impressed, and the band was in bizarre form. We have the photos to prove it.The first gig for Shaggy when he was brand-new and just out of the box, saw him wearing the pseudo-military number with just a hint of the mad hatter motif which has become his trademark. Shaggy laughed at all of Izzy's jokes and so passed the audition. Oh - he also played some wicked guitar and fitted into the habitat of Planet Zarsoff very comfortably. Welcome Shaggy!