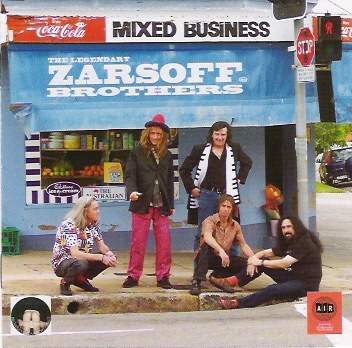 The five-piece Zarsoffs that will be promoting the new album: Smokey, Shaggy, Honky, Bologne and Izzy.

Honky recently passed away, and the band will be dedicating all future Mixed Business performances to him. Deputy Rusty will play keys in his place.

After their success on "The Boys Are Back In Town" tours, The Legendary Zarsoff Bros are back on the road to promote their new album MIXED BUSINESS. Stay tuned to this site for updates on live shows, news and other Zarsoffian insanity. The last Zarsoffs gig with the "Boys" line up was at the Bull N Bush (Sydney), September 22, 2001. Long-time drummer Lefty & airkeys player Buster departed soon after. The next gig at the Lewisham Hotel (January 18, 2002) featured fill-in drummer Squeezie. Remaining members Shaggy, Smokey and Izzy then rehearsed with new drummer Bologne and keyboardists Honky (Laurie from Barstuds) and Rusty (Russell from Blues Bros), and took to the live stage once again, with a series of selected gigs in preparation for the release of the new studio album. A series of live CD launches followed, which took the band's live appearances through 2005 and into early 2006. Zarsoffs frontman Izzy Foreal has been working at the University of Queensland since then, with the band on hold until enough material is ready for another studio album. Keep an eye on this site for news on the progress of this next Zarsoffs venture.
THE LATEST
ZARSOFF BROS ALBUM
The latest Zarsoff Bros studio album is MIXED BUSINESS. To get hold of a copy, drop into your nearest music shop and order one (tell them it's distributed by MGM), or you can order direct from us at twenty bucks including postage: For mailing details, send us an email (below).


If you are a music store operator, you can order copies of the album from MGM Distribution (Mark Bolton - 02 92838250)

NEW WESITE IN PROGRESS
A new Zarsoffs website is under construction, thanks to our resident web wizard, Gibbo. Check how it's going at http://www.zarsoffbros.com/
UPCOMING GIGS Izzy is on leave doing university research in Queensland, as well as writing some material for the next Zarsoff Brothers album, so there are no live gigs booked for the band in the short term. When Izzy clocks back on, however, the band will mount a tour of skullduggery around Sydney and NSW regional venues. Meanwhile, Zarsoffs drummer Bologne and his band LICK are gigging and recording, and Shaggy is performing live around Sydney venues with his own band. Smokey is also performing with BEACHHEAD, so keep an eye out. (While Izzy is in Brisbane, he is playing bass with a semi-acoustic outfit called Paspalum.)
STILL LEFT FIELD!
The Zarsoff Bros were intending to apply for the Marketing section of the John Butler Seed Grants that recently became available. Our intention was to apply for some money to pay for a publicity push on the new album. So, we contacted at least five PR companies who specialise in publicity for bands, to ask for a quote so we could submit it with the grant application. We were greeted with stunned silence by most of them. Two promised that they would provide us with a quote, but failed to do so by the grant deadline (in fact, both have not contacted us since). We can only surmise from this behaviour that PR companies are not in this for the business, but to be associated with something Cool. Even after nearly 30 years in the business, the good old Zarsoffs are still considered too left field / controversial / uncool by the powers that be! We can't even pay somebody to do our publicity! However, we wear this rejection as a badge of honour, as we do booking agents reticence to book us into venues. The Zarsoffs have never compromised their original intention to take the piss out of an industry that takes itself way too seriously, and this latest episode proves we are still the Bad Boys of Australian Rock!